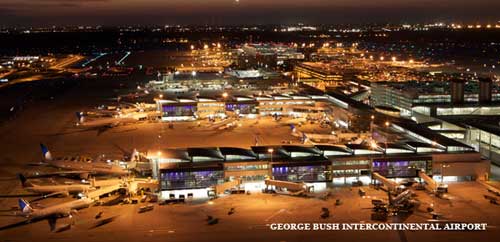 Planning for the Airport Master Plan 2035
Master Plan 2035
On February 17, 2015 the Houston Airport System invited the public, along with community leaders, key stakeholders and industry professionals, to provide information and feedback regarding the latest version of the proposed George Bush Intercontinental Airport (IAH) Master Plan 2035.

The IAH Master Plan 2035 will address issues unique to the airport, community and local environment. The master plan provides a vision for the airport that is safe and efficient, increasingly cost-competitive, aesthetically pleasing, and highly effective in serving the greater Houston community.
Summary
All recommended improvements are located within existing airport property
No new runways are required for the next 20 to 25 years
Taxiway improvements will make the airfield more operationally efficient and flexible
Timing of improvements will be determined by demand
All improvements will be subject to environmental review
Terminal construction will begin this march
See the information presented at the February 17, 2015 public meeting for additional details.
VIEW AIRPORT MASTER PLAN SUMMARY DETAIL